Joey - The best modern piece for a bedroom... and it doesn't squeak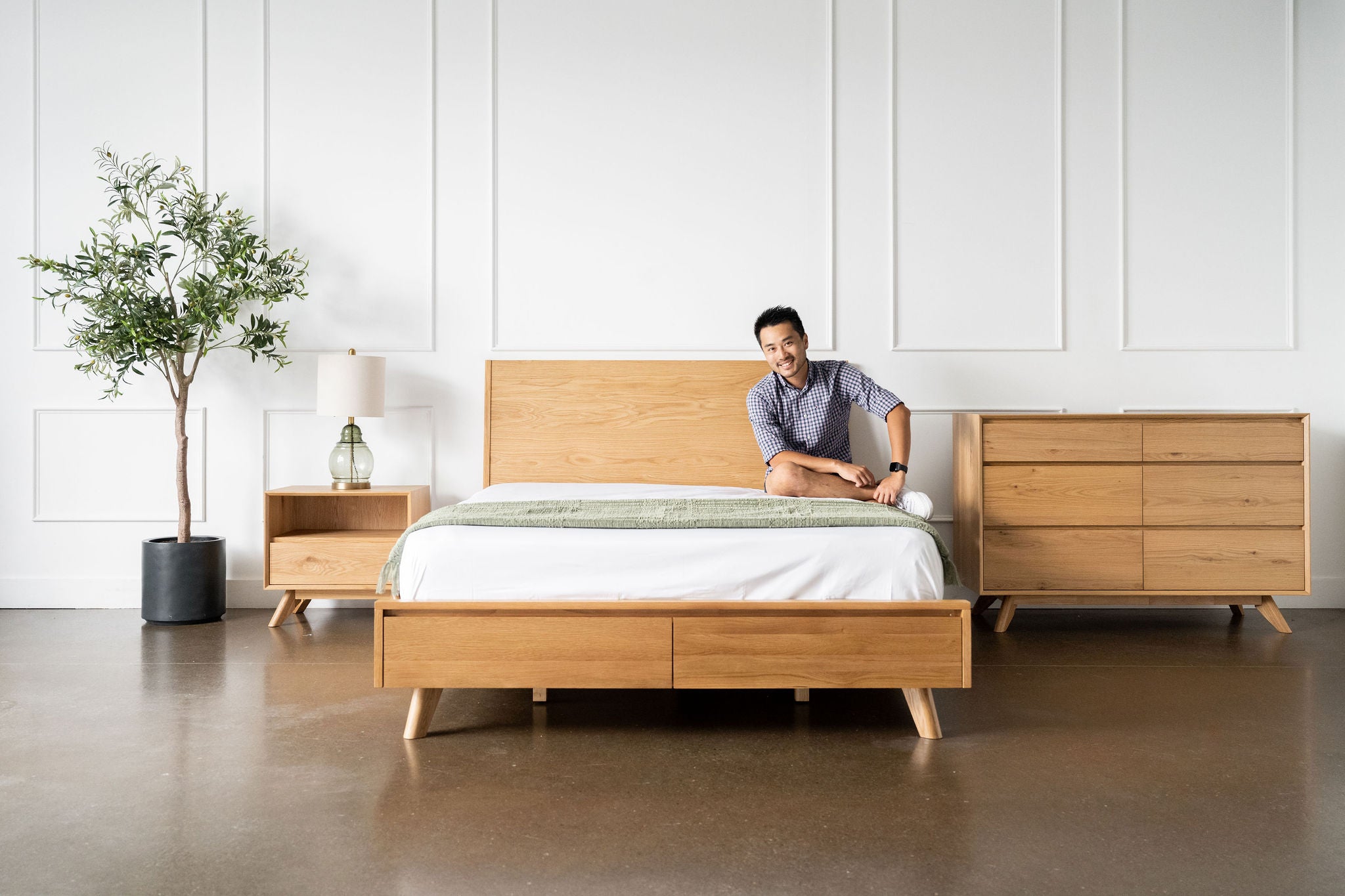 We outgrow that squeaking IKEA bed we had since the first year of college, yet boutique heirloom furniture isn't everyone's cup of tea. A home isn't home without a comfy bed to unwind the day, to rest and to rejuvenate. If I have to choose only one furniture item for my place, I'd pick the bed in a heartbeat. If you plan to remodel your place and don't know where to start, I'd suggest starting with a bed first, because soon after everything else will fall into its place, eventually. If the sofa is the centerpiece of a home, the bed is the table that holds everything together, and sets the style for everything else in your place. This is why the Joey bed was Mim Concept's very first product.
Joey – is a former colleague and now my best friend. He represents the younger workforce generation: a vibrant, play hard and work hard type with the occasional burnt out. There was this one day, that I'll never forget, upon visiting his condo I walked past his bedroom, and through the corner of my eye I saw something suspicious. I walked two more steps, then backtracked. Between the flimsy metal headboard and the wall he had pillows squished and tucked in. He saw bewildered look on my face, you know, this one → 🤨, and replied with a wink "my bed makes loud noises". He commented further, which became the design concept for the bed with his name: "it's hard to find a bed that is not too expensive, that doesn't squeak and doesn't make my room become a-ready-for-suburban-life kinda bedroom, and having some storage space for spare bedsheets is a plus too." I knew what he meant, the struggle was real.
The Joey bed was born
I wanted to create a bed that is modern, which emphasizes sleek lines and minimal ornamentation, feels at once contemporary and rooted in tradition. A bed that makes it easy to mix it in with other styles and pieces, a bed that is easy to disassemble and reassemble, a bed that moves with you. Thus, making it an obvious choice and a great investment that won't break a-twenty-something-young-professional's bank.
More importantly, it has to be made out of solid wood, because solid wood platform beds don't squeak, now you know the little secret 🤭. This ensures you don't need the extra box spring that's composed of metal springs that can squeak at night. You also eliminate the metal frame that supports the box spring, thus platform beds are better for your back. And just like that, I sketched out the bed inspired by my best friend Joey, the one that had pillows tucked behind his headboard… occasionally, for special occasions ;)
The best choice of material
At Mim Concept I promised that every piece would be thoroughly researched to design the best solution for every home. After pouring over wood samples, I selected Dark Native American Walnut. With its hardness, density, and tight-grained traits it brings an irresistible elegance without a compromise in function. The wood brings into the bedroom durability and a lifetime guarantee to hold good shape. Walnut is a natural material, it comes with diverse in gains, beautiful patterns and unique dark shades. Each piece is unique and a kind of its own, like Joey. Our Joey bed combines the best of long-lasting design with effortless usability.
Learn more about the Joey Bed here.
Designed in Canada
All Mim Concept pieces are designed in Canada and ethically manufactured. For every piece made a new tree is planted. Mim wants the right choice to be the easy one, that's why all furniture is organically made and carpenters are well-paid and working in safe conditions. We invite you to stop by our shop and learn more about how we follow beautiful design with sustainability in mind.
By Anh Ly
Designer of Mim Concept
---