Why I Quit Architecture to Design Luxury Minimalist Modern Furniture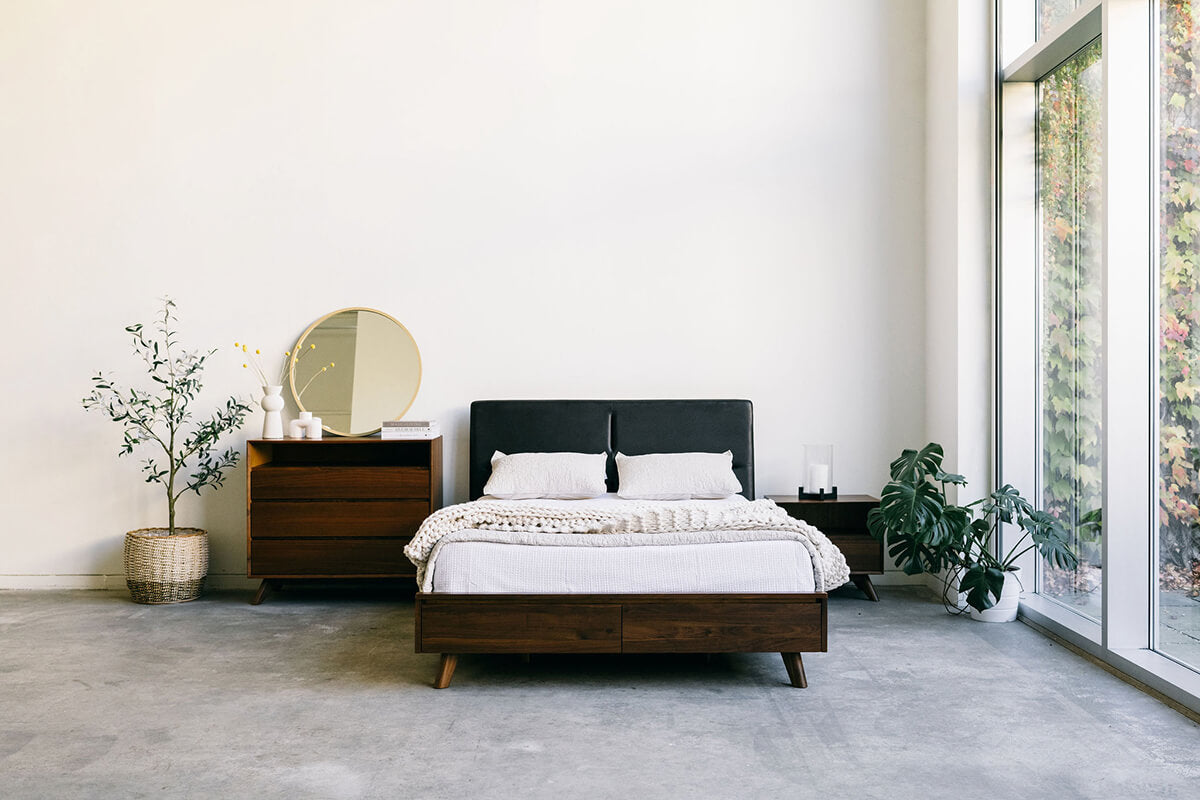 It started with Passion. I grew up being creative, dancing, painting, playing music and during those times I found my memories encased with my home. From the feel of the bench I sat on while fingers hit piano keys, to the floors my feet spun in circles on when listening to ABBA play for me. My home was leaving memories with me as much as I was leaving memories in my home.
I started to learn incredible aspects of practical value at Curtin University, Western Australia. Over the years I grew an incredible passion for architecture and found inspiration in my professors and the one and only Ludwig Mies van der Rohe. I relished being an academic and taking in everything that Mies brought to the world. As one of the most influential architects of the 20th century and the titan whose minimalist style of "less is more", his methodologies flooded every part of my being. Mies rejected traditional systems of his times and injected minimal intersecting planes and dissolved the boundaries between interior and exterior. The concepts I reach to supplant into every creation at that time and still today. I worked my way to a Master of Architecture by the age of 23 and took on my first position at Baumschlager Eberle.
Bushwalkers Shelter Concept Design
At this time doing a startup still wasn't at the top of mind. Instead, using my education, I worked closely with building service engineers, construction managers, quantity surveyors and architectural technologists creating building designs and proposals to heighten my skills. We built incredible solutions and there I found this passage from a thesis I wrote to be very true:
The Dwelling - Since early man, built form has played a significant role in ensuring survival and comfort for its occupants. Dwellings required a temporary nature due to the continuous movement of people, but as time has gone on the concept of "dwelling" has become far more permanent. It is due to this contemporary permanence of "dwelling" that the concept of home began.

Yet the concept of home developed far beyond this simple explanation. Historically, the term home was not limited to that of physical structure. On a grander scale, one's township or country may feel like home (often experienced through the longing of one's home or home-sickness). From this point on, the use of home in italics will be limited to its specific association with the residential dwellings. It is within the residential, that both architecture and psychology have a significant influence on the feeling of home. The current architectural environment appears to lack any real focus on the development of homes. It seems to favour the object and its cosmetic experience, rather than design that reflects the needs of occupants and how they will live within the spaces.

To understand home, is to first understand how we perceive it. Human behaviour is an incredibly complex series of mechanisms, but the analysis of the conscious and the unconscious is an area that must be analysed in regard to their effect on the topic of house and home.
After a couple years as a Graduate Architect I was ready for a new challenge, I left Perth and found my way coming to Ontario.
The Mansion Rendering
At Davids Interiors Inc. I specialized in designing building interiors for safety, functionality and aesthetics. Creating mood boards and extending my design skill-set to tackle furniture for a range of clients. I was quickly understanding the need for beautiful design combined with functional design. An architectural background, and my inspiration, was shaping the very foundation of what my brand is today.
Like Mies, if I'm bold enough to say, I wanted more than to design pieces for select customers and wanted to break boundaries. I had shared my vision for a retail brand in past roles but it wasn't time to give birth to Mim Concept. But in 2018 the urges inside me to do more, and to realize my ideas for a brand that people could create memories with had to be born. My ideas were scoffed at, maybe they thought a woman couldn't do it, I wasn't brave enough, or it's too difficult. That drove me to show the world it's not true, maybe I enjoy being the underdog, I seek the hurdles that other's shy away from, and I thrive when taking personal responsibility for success and failure. It was time to create my own.
"Place and identity are inextricably bound to one another- we hold from the memories of those spaces and places that shaped us. Where we live shapes the way we live.

The idea of Mim Concept is being a part of those moments. Moments that distinguish your home from others, moments that make your home 'home', moments that make home a safe haven, where all social standards and expectations are non-existent."
Long before my dream of architecture, the word "home" had always had a deep and unique meaning, as much as we shape them, therefore our home also shapes us. In 2018 I left architecture. And decided to become a designer, an entrepreneur, and a woman willing to take risks. Architecture left me with design principles: minimalism is exquisite, less is more, and form follows function. With all my experiences Mim Concept brings affordable luxurious furniture that lasts and grows old with you.
Looking back my early experiences probably paved my way to be willing to take risks and venture on my own even today. The experiences of a job couldn't offer me the opportunities and new challenges I need, nor provide the new set of goals like my parents did for me back in Vietnam. Maybe this will be another step to another mountain, but I can already say it's the most challenging and rewarding endeavour I've taken. It has pushed me past limits, forced me to learn faster, battle patience, and create furniture that is affordable luxury, will last and grow old with you in your home.
By Anh Ly
Designer of Mim Concept
---
1 comment
---
---