Get the Right Look for Your Bedroom with Essential Furniture Guides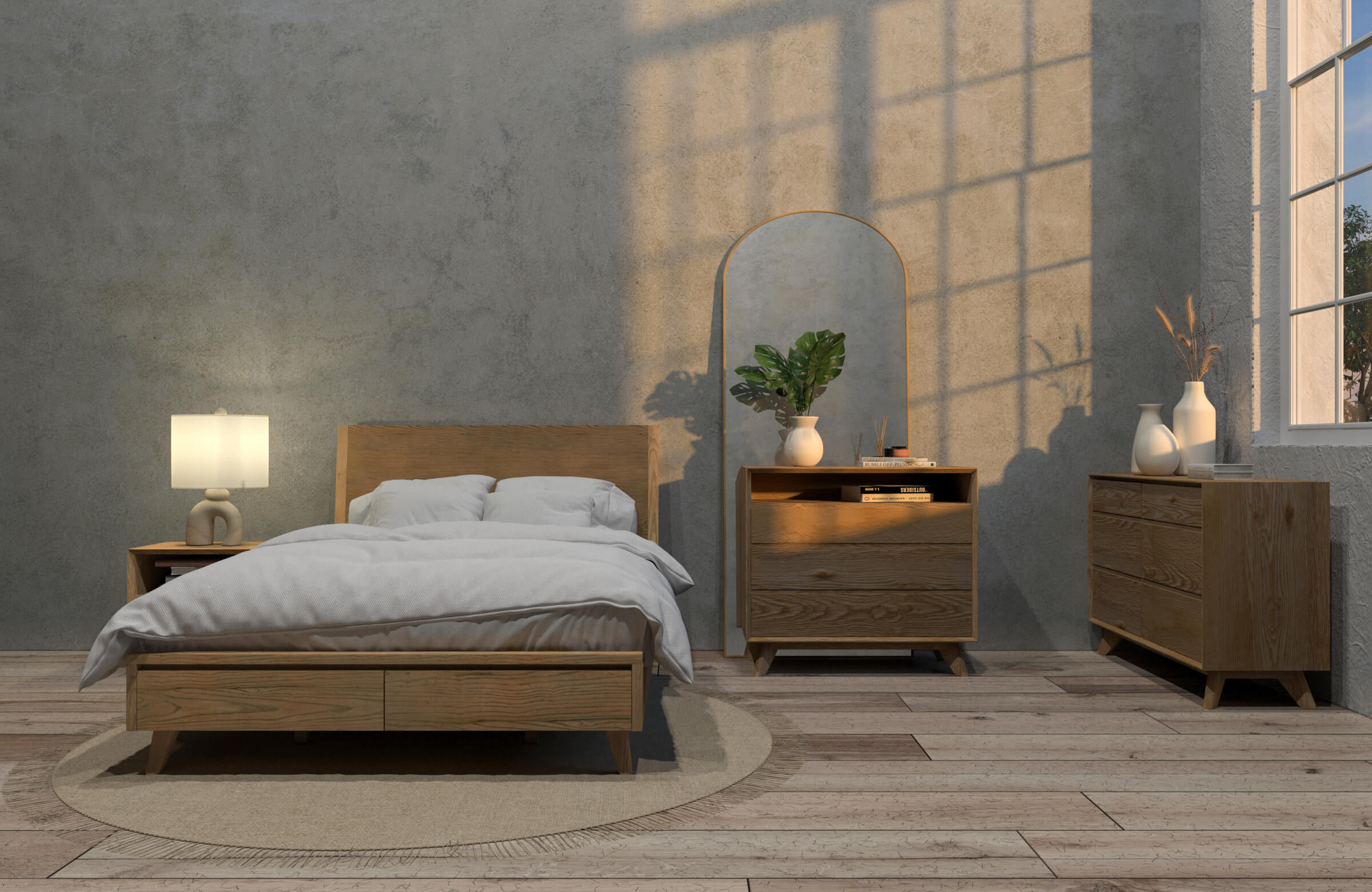 I know that furnishing a bedroom can be a daunting task, especially for young homeowners living in small apartments in bustling cities like Toronto. But fear not! With the right furniture and a bit of creativity, you can transform your tiny space into a cozy haven.
1. Choose bedroom furniture that fits your space
Beds
First things first, let's talk about the bed. It's the centerpiece of your bedroom, and choosing the right one is crucial.
If you have a small space, opt for a platform bed with built-in storage underneath. It's a smart way to maximize your storage options without sacrificing style.
Dressers
Next up is the dresser. A dresser is a must-have for any bedroom, but in a small space, it's important to choose one that is compact yet functional.
A chest of drawers with a narrow profile and plenty of storage is a great choice. If you have room, consider adding a mirror to the top of the dresser to create a vanity area.
Nightstands/ Bedside table
No bedroom is complete without a bedside table. But if you're short on space, you might want to consider a wall-mounted shelf instead. It's a great way to keep your essentials within reach without taking up valuable floor space.
If you have a bit of extra space, a cozy armchair or small loveseat can be a great addition to your bedroom. Not only does it add a touch of elegance, but it also provides a cozy spot to relax and unwind.
Lighting
Last but not least, let's talk about lighting. Good lighting can make or break the ambiance of a bedroom. If you have a small space, consider installing wall sconces or pendant lights to save floor space. And don't forget about the importance of a good lamp on your bedside table for reading in bed.
furnishing a small bedroom can be a challenge, but with the right furniture and a bit of creativity, it's possible to create a cozy and stylish space that reflects your personality. So go ahead and experiment with different furniture styles, mix and match textures and patterns, and above all, have fun creating your perfect bedroom oasis!
2. Creating the perfect bedroom
After a long day of work, there's nothing better than coming home and being able to relax in your bedroom. But how can you make sure that your bedroom is the perfect oasis of calm? The key is having the right furniture! Sure, it's easy enough to pick up a few pieces of furniture here and there, but matching your bedroom furniture with the look and feel you want takes a bit more effort. To help you out, we've created this essential guide on furnishing your bedroom—from selecting the right fabrics to picking out just the right pieces. Let's get started!
Choosing Fabrics for Your Bedroom
When it comes to decorating your bedroom, fabrics can be key for creating an inviting atmosphere. For example, if you want something warm and cozy, then velvet might be the way to go. On the other hand, if you're looking for something modern and stylish, then leather or faux-leather may be more suitable. Whatever fabric you choose, make sure it complements both your bed frame and any other pieces of furniture in the room such as dressers or nightstands.
Picking Out Pieces That Complement Your Bed Frame
When setting up your bedroom furniture, one of the most important pieces is going to be your bed frame. This will set the tone for everything else in the room so choose wisely! From traditional four-post beds to sleek contemporary designs—there are countless options available depending on what kind of look you want to create. Once you've picked out a bed frame that matches your style and budget, then it's time to start thinking about what other pieces of furniture will complement it best. Dressers, nightstands and armoires are all great options for adding storage space as well as style points!
Adding a touch
When all of the big pieces are in place (bed frame + dresser + nightstand/armoire), now comes time for accessorizing! Adding some finishing touches with accessories like lamps or wall art can really give your bedroom that extra "oomph" factor that makes it feel special and unique. Just remember: less is more when it comes to accessorizing so don't go overboard with multiple items competing for attention! 
So there you have it - our essential guide on how to furnish your bedroom with just the right amount of style and comfort! Whether you're looking for something traditional or modern - there's plenty of options available depending on what kind of look you're going for. And don't forget – we are always here if you ever need help putting together a plan for creating your dream bedroom oasis! So why wait? Get started today by choosing just the right pieces that will bring life into any space - no matter what size or shape it may be! Good luck!
You can check out our extensive collections of minimalist mid-century modern furniture at Mim, or get in touch with us.
If you live in the Toronto area, you can also drop by to view our beautifully crafted furniture in person.
By Anh Ly
Designer of Mim Concept
---