What Sofa Should You Buy? Here's How to Choose the Best One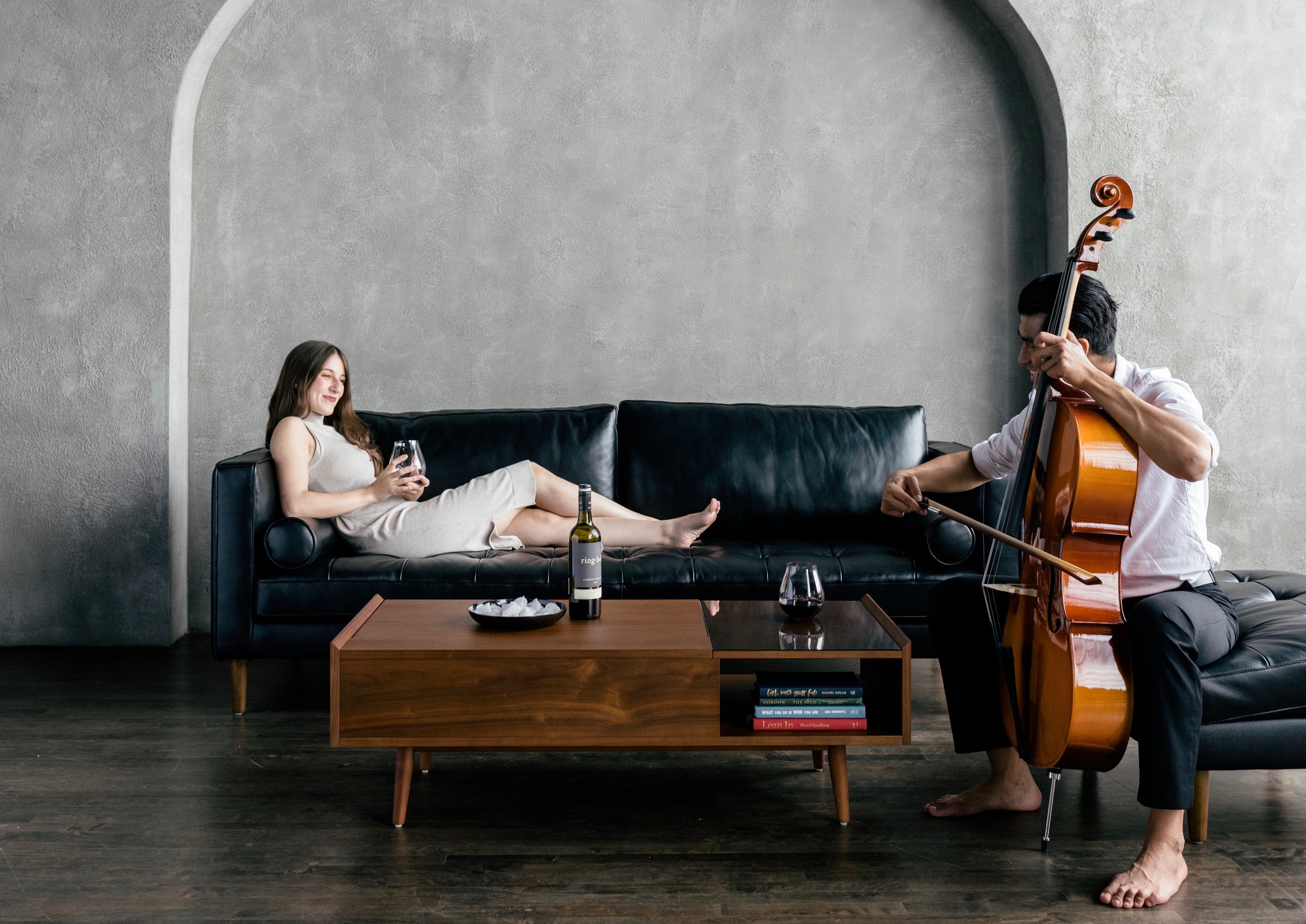 It can be a sofa, couch or a loveseat, but no matter, this piece is the centerpiece of your home. It tells so much about you, the owner's aesthetic, lifestyle, status and personality. The right sofa should be a marriage between function and style – it is, indeed, a real commitment ;) no casual relationships here. Like a dating app where it's swipe, swipe, swipe, the rise of e-commerce feels like there's an endless set of choices too. We all like options, however, just like when looking for the perfect match, when it comes to furniture shopping it is crucial that you have a general idea of what you are looking for before you start the hunt. Here are few things you should do before jumping into a relationship with a sofa:
1. Think about your movie night:
Your first thought should be how many people in your family need to sit on the sofa for movie night. If you have more than four, you should look at sectionals so everyone can be together. But if your movie night is more like "Netflix and chill," you have more options, go with a neutral solid three-seater (or a loveseat) and an ottoman. That way, you will have more flexibility in positioning the sofa and can switch them up regularly with bright, throw blankets and pillows. Yet, still be comfortable and cozy at the same time with snacks in arms reach.
2. Read the specs before making the purchase:
A Sofa is a focal point of your home to keep for the long haul. It is wise to spend, as much as you can afford, on a good quality frame and cushions. This investment now will see you through many years of lounging. A solid kiln dried hardwood frame is a better option compared to engineered wood. Down feather-filled cushions are high on comfort but they will need regular plumping, while foam or fibre fillings may flatten out and lose their shape over time. The perfect solution is a combination of feather and foam as feathers give the squish while the foam provides structure.
3. Measure up:
Remember Ross Geller's iconic "PIVOT" sofa scene in Friends?
Yep, there is honestly nothing worse than buying something that doesn't fit ;) Before smacking that credit card down, get out a tape and measure up. It will give you a general idea of the maximum length and width that will fit your space. You should opt for a couch and an ottoman instead of a full sectional if you like a clean and minimal look for a smaller living room. It is also more flexible in arrangement too. And finally, check the dimensions of any doors and the elevator the sofa will have to pass through on delivery, don't be a "ROSS".
This is Xavier

The inspiration:
The sofa design is inspired by my "architecture soulmate" - Xavier. 10 years ago, we first met when we were in architecture school, Australia. My memory of Xavier is the memory of the passion for architecture. We both believed Architecture is the only applied art to change how we perceive the world around us (and we still do). After graduation, we chose different paths yet we both ended up in the same country – Canada. His architecture practice is based in Vancouver. Each project designed by Xavier embodies integrity and is created with skill, contemporary culture, attention to details and current technology. He thrives to create authentic "sense of place" that connects nature, culture and people. His aesthetics and principles inspire not only the make of Xavier sofa but also my furniture design: modern, graceful lines, clean cut and the bold use of honest materials.
The mindful design:
As with whom this sofa was inspired, the Xavier Sofa stays true to the modernism architecture characteristics: clean minimal lines, attention to details, form follows function and the bold use of honest materials. The hidden USB charging port is a touch of modern technology.
The enduring beauty:
Upholstered in genuine Italian leather and tweed fabric, the choices were made to ensure that it will age magnificently like a building that stands the test of time. Crafted by kiln dried hardwood and walnut legs, it creates a strong, warp-resistant frame. Each hand-stitched cushion has an inner core of individually wrapped springs and three layers of eco-friendly high-density foam cushioning topped with premium 100% ethically sourced goose feathers. This offers a firmer seat that will hold its shape well for a long time.
Our ambitious promise:
The Mim Concept furniture making philosophy is simple: we strive to make good products. A good product is the one that stands the test of time, that is made of quality and honest materials and that is a lifetime promise. Xavier comes with lifetime warranty in frame and 5 years warranty in cushions.
Designed in Canada
All Mim Concept pieces are designed in Canada and ethically manufactured. For every piece made, a new tree is planted. Mim wants the right choice to be the easy one. That is why all furniture is organically made and our carpenters are well-paid as well as working in safe conditions. We invite you to stop by our shop and learn more about how we follow beautiful design with sustainability in mind.
By Anh Ly
Designer of Mim Concept
---