Organic modernism in interior design and how to achieve the look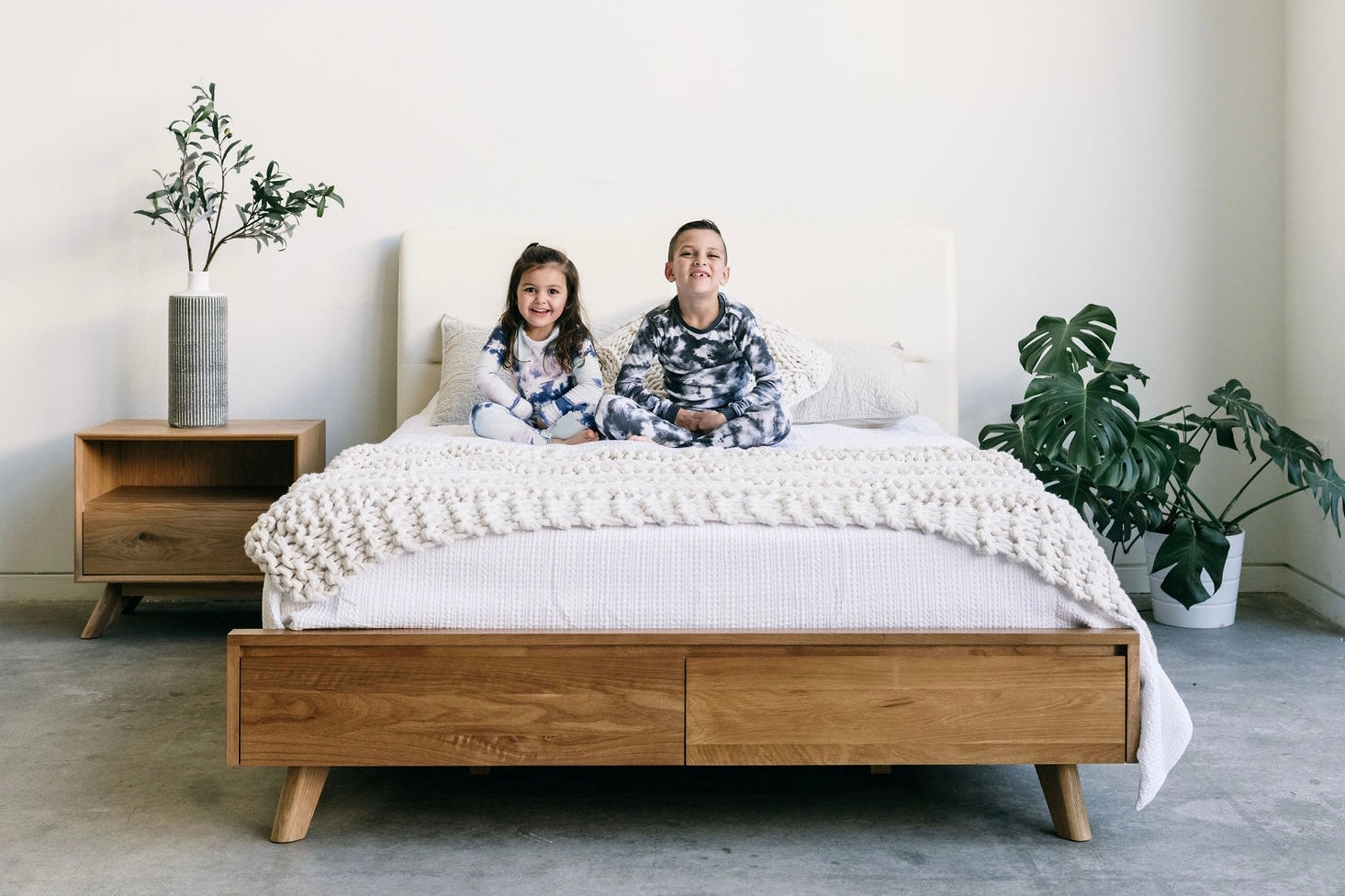 The phrase "organic modern interior style" seems to be on everyone's lips, but what does it mean, exactly? What comes to mind when you hear it?
The term can actually be confusing as, although it appears to capture the essence of a design aesthetic that's growing in popularity perfectly, it doesn't really say much. After all, the words "organic" and "modern" signify drastically different things in various contexts.
Despite its seeming vagueness, organic modernism is a style in interior design that continues to gain more followers. It has its roots in current design trends that leading designers are drawing inspiration from.
With the large variety of organic modern designs available, it's easy for the definition of organic modernism to get lost in translation. And if you're feeling a little lost yourself, we're here to help you out.
Here, we discuss the organic modern style in depth and provide actionable tips on how you can achieve it in your home interior design by making smart furniture choices.
Organic Modernism in Interior Design — The Basics
It was American architect and designer Frank Lloyd Wright who translated the relationship between nature and human beings into a design concept whereby a structure appears to be in harmony with its natural environment. Through what was called "organic architecture," Wright aimed to strike a balance between the buildings he created and their settings.
Wright pioneered organic concepts in both architecture and interior design. Today, Wright is known for having created nature-inspired structures that flowed from the interior to the exterior seamlessly, and for using both natural and human-made materials in his works.
This approach that's inspired by nature is quite apparent in organic modernism, although Scandinavian minimalism serves as the foundation for this relatively newer design philosophy. Organic modernism also draws inspiration from the mid-century modern movement and bohemian interior design trends.
In sum, the following design trends inspire organic modernism:
Organic:

Designed in harmony with nature and uses natural materials.

Scandinavian minimalism:

Combines simplicity, comfort (hygge), and practicality.

Mid-century modern:

Rooted in functionality, and characterized by simplicity and clean lines.

Bohemian:

Free-spirited, eclectic design aesthetic.
Focusing on sleek modern workmanship, the beauty of organic shapes, delicate curves, and natural materials, the final product exudes a sense of casual luxury and simple living.
If you want a pleasant, refreshing interior design that will never go out of style, organic modernism is ideal as it perfectly combines biophilic design with clean lines and a modern look. 
Elements of the Organic Modern Style
Although organic modernism is open to interpretation (which explains the wide variety of examples you'll find online or in design publications), there are essential elements that define this elegant, laidback and enduring style.
1. Natural, simple materials
One prominent characteristic of organic modern design is the use of organic or natural materials. Examples of these are natural wood and fibres, metal, etc. Interesting stones, geodes, crystal chunks, petrified wood, and wood slices also make for interesting natural accents.
Using natural materials in their raw state adds another dimension to your interior design. For example, a simple wood stump used as a coffee table or chair is not only visually impactful but also tells a story.
To use natural materials for a specific area like a reading nook, you can use a stunning dresser made of mango wood with rattan accents, or a chair with an arch made of boucle fabric and decorative cut-outs. However, avoid going overboard with the accessories to avoid looking garish and crowded. Accents and details, when used sparingly, can be used to highlight other design elements.
2. Minimalist aesthetic
The organic modern interior style is uncluttered as it prioritizes quality over quantity. It is effortlessly stylish and exudes a clean, comfortable airiness achieved through the strategic placement of a few select pieces.
In an organic modern home, there's no clutter since every piece of furniture and décor — from the carpets to the dining room table — is arranged with skill and consideration. This enhances the sensation of lightness and spaciousness and complements the simple shapes and understated hues, which are hallmarks of the organic modern approach to design.
Although organic modern interior design is usually associated with mid-century modern furniture, there's no need to worry about the various furniture design styles.
Aside from mid-century, you may find other modern furniture styles like Japanese wabi-sabi, ultra-modern, and minimalist fitting the overall look you want. Of course, you're free to use a variety of furniture pieces in different styles while staying true to the principles of organic modernist design.
3. Neutral or muted colour palette
The colour scheme for the organic modern design must always be muted, light, and airy. Whites, creams, beiges, and light greys are the most common colours, with a few subtle nods to brighter tones like warm brick and cozy mustard notes found in a natural palette.
However, an organic modern home doesn't absolutely shun colour; instead, it chooses a limited palette that leans toward the subtle and natural — whether it's the fabrics, furniture, or accessories.
Setting the mood for the space and enhancing each piece of organic modern furniture and décor, from dining tables to sofa beds, is as easy as painting the walls a bright white colour.
4. Sculptural, organic shapes
Organic shapes can transform any space. However, when it comes to modern organic interiors, the use of sculptural, organic shapes is non-negotiable.
The clean, simple lines of modern interior design are one of its defining characteristics. But by adding an element with gentle curves or undulating waves, or something spherical or ridged, the unexpected contrast adds interest. It also emphasizes the natural shapes and negative space that are also important to the organic modern interior style.
For example, a spherical lamp, an asymmetrical rug, or a brutalist coffee table can completely alter the appearance of a room.
5. Layers
Layering organic materials lets you achieve a lived-in, luxury aesthetic. Simple furnishings serve as the building blocks of organic modern design, so accessories are essential. Soft throw blankets, woven baskets, and tiny decorative items like crystals and stones work to achieve that curated, cozy aesthetic.
Be careful not to overcrowd the space as you layer materials to maintain an uncluttered look and give the décor some space to breathe. By selecting the proper number of pieces in the appropriate size, you can infuse a sense of openness into a room.
Larger accessories can have an immense impact without crowding a room. You can opt for a sizable statement piece of art to fill a blank wall rather than a gallery of artworks or photos, and choose a giant sculpture over a collection of small objets d'art.
7. Comfort
Organic modernism beckons with its promise of relaxed, simple living. It addresses our natural propensity for optimum comfort by creating a setting that encourages complete relaxation.
A luxurious chaise lounge, for example, is the perfect representation of the elegant coziness of organic modernism, transforming any living space into a haven of leisure.
8. Greenery
Make sure to include fresh house plants in your space to enhance the organic aspect of your design theme. Choose greenery to adorn what would otherwise appear to be austere or boring spaces of endless neutrals and muted hues.
Opt for low-maintenance indoor plants that won't just serve as ornaments but will also clean the indoor air. These include the golden pothos, peace lily, snake plant, lucky bamboo, Boston fern, and ZZ plant. You can put these virtually anywhere, including your living room, kitchen, dining area, bathroom, and bedroom.
Tips to Achieve the Organic Modern Look With Furniture
Furniture pieces play a vital role in achieving the minimalist organic modern interior design style.
To help you apply this design aesthetic in your home, here are some expert tips on furniture and accessories you can mix and match to set up your living and dining room, bedroom, and bathroom.
Bedroom
There are so many approaches to creating an organic modern bedroom, and one way to do this is by using soft, luxurious bedlinen on top of a simple wooden bed frame. Use your nightstands, blankets, and baskets as textural design elements to create the perfect bedroom environment.
To finish, put lush, relaxing plants on dressers or nightstands and in corners.
Other furniture pieces and accessories you can combine for a perfect organic modern bedroom include:
Raw wooden headboard

Low profile bed

Wooden chest, night, or side table

Raw marble side table

Asymmetrical bedroom mirror

Wooden folding screen

Scandi table lamp

Soft textural blanket and linen pillowcase

 
Dining room and kitchen
Sit down at a modern, yet rustic, dining table with a floral or fruity centrepiece and dramatic overhead chandelier or pendant lighting. For seating, combine various wood tones with a comfortable material and accessorize with both metal and natural elements.
If you want to take a different approach to your dining and kitchen area while maintaining the organic modern aesthetic, consider combining the following pieces:
Natural dining table made of wood, stone, or glass

Wood or plush material seating

Floral centrepiece

Wood cabinets

Stone splashback

Stone and timber bar

Wood and metal bar stools

Wooden or clay serving and salad plates, and cooking utensils
Living room
A basic modern-form sofa or loveseat combined with a curved accent chair in a complementary material, like warm rattan, will create the ideal modern organic design living room.
Choose a curving coffee table and set it on a simple, minimalist rug. To frame the space, place a large palm or olive tree in the corner opposite a standing light fixture or floor lamp.
Depending on the specific look you want to achieve, other organic modern pieces you can use include:
Low-profile modern white linen sofa

Mid-century modern furniture, such as an Eames lounge chair or a Danish teak or natural hide slingback chair accessorized with a geometric woven throw

Wingback chair

Chaise longue

Live edge wood table

Travertine stone and oak wood end table

Asymmetrical, jute, raffia, sisal, or handwoven wool area rug

Plaster floor lamp or bamboo pendant light
Bathroom
The bathroom is your sanctuary. It's the place where you can soak up your worries or reinvigorate your mind and body, so it deserves plenty of attention. Good thing turning it into an organic modern space is easy with the options available.
You can enhance the bathroom's brightness with an open, minimalist design that includes a luxurious marble or stone vanity combined with wooden cabinetry, organic forms (e.g., soap dishes, tissue holders, etc.), and brass accents.
Place small leafy or slender calming plants over showers and bathtubs and on countertops. Add some texture by putting wicker or rattan baskets to hold dry towels.
Transform Your Space With Organic Modern Furniture and Accents
Organic modernism in interior design is popular for a reason.
Its utter simplicity and relaxed yet elegant vibe calls out to our desire to be one with nature and settle into the cozy embrace of comfortable furnishings.
You can easily transform your home by implementing the elements of organic modern interior design through the strategic placement of select minimalist furniture. And with the right accessories, you can enhance your space and achieve a seamless, elegant look.
To get some design inspirations, you can check out our extensive collection of minimalist mid-century modern furniture at Mim, or get in touch with us.
If you live in the Toronto area, you can also drop by to view our beautifully crafted furniture in person.
By Anh Ly
Designer of Mim Concept
---