Tips on Choosing the Perfect Bedroom Furniture for Small Home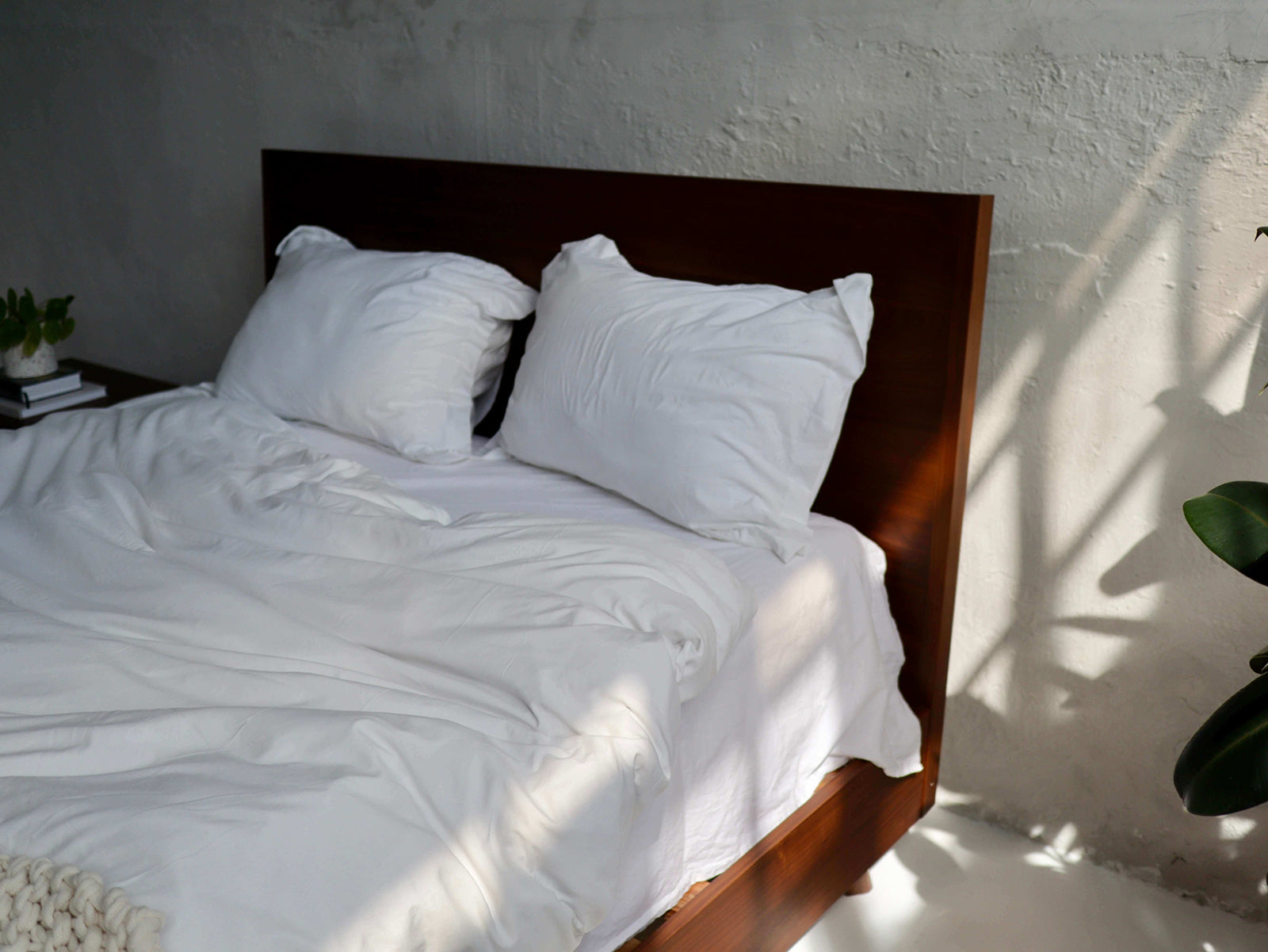 As an interior designer, I've seen countless young homeowners struggle with choosing the right furniture for their bedrooms. And I get it, with so many options out there, it can be overwhelming to find the perfect pieces that not only look good but also fit the fast-paced contemporary lifestyle in a metropolitan city like Toronto, Vancouver, etc.
But don't worry, I'm here to guide you through the process and help you pick furniture that will make you feel right at home. Keep reading to learn how to make an informed decision when it comes to selecting bedroom furniture.
Size matters
First things first, let's talk about size. When it comes to bedroom furniture, bigger isn't always better. In a city like Toronto where space is at a premium, it's important to choose pieces that fit comfortably in your room without taking up too much space. So before you start shopping, measure your room and take note of doorways and windows to ensure your furniture can fit in and be easily moved. Make sure the pieces fit well into your room without cluttering or overcrowding it. For example, if you have a small room but want a large bed frame or dresser, opt for one with streamlined designs that will occupy less physical space while still providing ample storage options. Additionally, if your bedroom doesn't have much natural light, bright colors can help reflect some of the available light around the room to make it feel more spacious and inviting.
Form Follows Function
Next, think about functionality. Your bedroom should be a relaxing and rejuvenating retreat from the hustle and bustle of city life. So when choosing furniture, think about what you need to make your space work for you. Do you need a dresser for all your clothes? Or maybe a bedside table with a lamp for late-night reading? By identifying what you need, you can choose furniture that will make your life easier and your bedroom a sanctuary. Make sure the pieces you pick are comfortable enough to support your body while also being stylish enough to fit into your contemporary lifestyle. A great option is upholstered headboards, which provide both comfort and style with their sleek modern lines and plush fabric coverings. For storage, consider dressers with plenty of drawers and shelves for storing clothes, bedding, and other knick-knacks.
When it comes to choosing a bed, comfort should be at the top of your list. After all, it's the place where you'll be spending a third of your life. So, pick a bed that's not only stylish but also provides ample support. If you're tight on space, consider a platform bed, which eliminates the need for a box spring and saves you valuable floor space. And if you're sharing your bed with a partner, make sure to choose a size that's big enough for both of you to have a good night's sleep.
Don't forget about aesthetics
Now let's talk style. If you're going for a contemporary modern look in your bedroom, choose furniture with clean lines, neutral colors, and natural materials. Think about investing in pieces made from solid wood or metal for a modern feel. But don't be afraid to add some texture and warmth with a plush rug or cozy throw. The key is to strike a balance between functionality and style to create a space that's both comfortable and stylish.
Lighting is an essential aspect of creating a relaxing atmosphere in your bedroom. In addition to overhead lighting, consider adding bedside lamps or sconces for more control over the ambiance. And if you love reading in bed, choose a bedside table with a lamp that provides enough light to see by.
Think about how each piece will look in the context of the rest of your home - does it feel harmonious? Does it bring out any elements or colors from other parts of your home? And don't forget about texture - mixing different textures (such as wood and metal) adds visual interest and complexity to any room.
It's YOUR HOME, have some fun with it!
Now, last and most importantly, the space you are in now is YOUR HOME, it's your house and you're alone. The time has come to put those boring, cookie-cutter interiors to rest (oh yes, those decorative books and those boring centrepieces). It's time to bring some personality into your homes and have a little fun while doing it.
For starters, let's talk about color. Don't be afraid to go bold! A vibrant accent wall or a playful patterned wallpaper can make all the difference. Think outside the box and experiment with unexpected hues, like a tangerine accent in a mostly blue room, or a peacock blue feature wall in a neutral living space. Why not?!
Next up, let's tackle those bland, lifeless spaces. Bring in some plants! Not only do they add a pop of colour, but they also improve air quality and give your home a more organic feel. And for those with a green thumb (or even just a decent sense of humor), consider quirky planters like animal figurines or vintage teapots.
Now, let's get down to the nitty-gritty of decor. Forget about matching sets and uniform styles that belongs in the past. Mix and match pieces from different eras and design styles to create a unique, eclectic look. For example, pair a mid-century modern sofa with a baroque mirror and an abstract artwork. The key is to have fun and not take it all too seriously. Or, if you like matching uniform sets, choose a modern minimalism furniture set, it's timeless. It screams Scandinavian living ;) 
Last but certainly not least, don't be afraid to incorporate items that hold special meaning to you. Display family photos, showcase your travel souvenirs, or hang your favorite pieces of art. These personal touches not only make your space unique, but they also bring a sense of warmth and comfort to your home. The key is "not overdoing it".
So go forth, fearless decorators, and add some personality to your homes. Remember, it's not about perfection, it's about having fun and making a space truly your own.
Finally, don't be afraid to mix and match. While it's important to choose furniture that works together in terms of style and functionality, it's also okay to have some fun with it. Try combining pieces in different materials, such as a metal bed frame with a wooden dresser, to give your space a unique look. And don't forget to add personal touches, like artwork or photos, to make your bedroom feel like your own.
Choosing furniture for your bedroom can be a fun and exciting process. Just keep in mind size, functionality, style, comfort, lighting, and personal touches to create a space that's both stylish and comfortable. If you're in Toronto, be sure to check out Mim Concept Furniture for a great selection of contemporary pieces that fit your lifestyle.
With Mim's selection of stylish yet timeless designs—along with our tips on comfort, space utilization and aesthetics—you should have no trouble finding the perfect pieces for your unique home! So start browsing now and get ready to transform your space into something truly special!
To get some design inspirations, you can check out our extensive collection of minimalist mid-century modern furniture at Mim, or get in touch with us.
If you live in the Toronto area, you can also drop by to view our beautifully crafted furniture in person.
By Anh Ly
Designer of Mim Concept
---
2 comments
---
---